DataQuest Racing Data Logger Recorder Acquisition System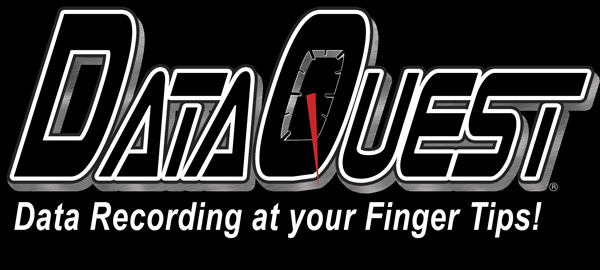 DATAQUEST utilizes the latest technology in visual high speed, networked, and modular data acquisition systems. Expandable to a 43 channel capacity.
| | |
| --- | --- |
| DATAQUEST's components are comprised of: |   |
| (MCU) Main Control Unit | - required component |
| (TSD) High resolution Full Color Touch Screen Dash Display | - optional component |
| (SWP) Switch Panel | - optional component |
| (SN) Networked Sensor Nodes | - optional component |
| Large selection standard and custom sensors available! |   |
 

 

Touch Screen Dash Display ( TSD): TSD is a full color, high brightness Touch Panel Display. (Dim 8.25"x4.5"x1.25")

This Optional component truly sets the DATAQUEST system apart from the rest. TSD features System Setup, Real-Time, Record, and Playback modes in both Graph and Gauge screen formats.

TSD will completely replace conventional dash gauges by being able to display up to 40 different vehicle parameters on a programmable screen. 10 selectable screens can be customized to show engine RPM and any 4 of up to 40 available channels. Each channel has programmable High/Low warning limits that can trip outputs and change color on warning.

TSD provides recorded data playback directly on screen, eliminating need for PC downloading. Select any recorded run and see data on a Gauge or Graphing formatted Screens. Play, Pause, Fast Forward, or Rewind your data!

 

 

TSD can display Shift and Warnings directly on screen eliminating need for "shift" or "warning" lights.

 
Main Control Unit (MCU):
The MCU provides 11 high speed Digital and Analog channels recording @1000 Samples/Sec. . (Dim 6.5"x4.12"x1.12" )

These built in channels include Engine Rpm, Drive Shaft RPM, Clutch or Converter RPM, Battery Voltage, 3-Axis Accelerometer, and 4 Auxiliary sensor channels (suitable for general purpose or suspension analysis sensing).

MCU contains secure locking wire harness connections for sub system components, removable SD memory card for data storage, USB port for Real-Time data monitoring and downloadable firmware updates to a PC, and GPS port for track mapping capability.

MCU has 4 programmable relayed outputs that can be activated by any channel or sensor value or warning limit

 
Networked Sensor Nodes (SN):
Dataquest's Sensor Node Modules are connected via a high speed CAN Network recording@100 Sample/Sec.
Up to eight SN's/ 32 sensors can be daisy chain linked through a Single cable.
Each SN can provide 4 sensor inputs for Analog, Digital, EGT, Temperature, Air/Fuel, Position, Flow, or any other sensor type. Clearly labeled terminal blocks inside the SN allow for easy wire connections (water resistant) and field trim able cable lengths for clean and easy system installation.
 

SD card memory:
DATAQUEST' utilizes Secure Digital (SD) card memory to hold all recorded data. These high capacity cards allow for storing literally hundreds of drag race runs, many road course laps, or hours of straight data recording. The removable SD card allows for easy transfer of data to your PC for storage and analysis with the Dataquest's full featured graphing review software for you PC.
NEW!

Integrated Switch Panel.

 
Dimensions 6"x5"x1"
Controls all vehicle functions through Touch Screen and Solid State Switch Module.

Each Switch can be time delayed to automatically turn on after the Start button is pressed so you can start cranking engine easily before the ignition is turned on. Then bring in the fuel to allow for easier starting with less risk of flooding. Press one button to start car, no more flipping switches!

Each switch can be Limit programmed off any other channel in the system (Example- Water pump will turn on when the Engine Temperature is above 120 degrees)

Each switch can handle a 30 amp max load and can be programmable fused at any level (1-30amps). (No more replacing blown fuses)

Each switches current draw can be data recorded. (Example - Amperage draw on your Fuel Pump can be viewed over your entire run).

Switches also feature a Soft Start option to eliminate in-rush current when load is first turned on.
Module can be connected anywhere along the systems CAN network cable.
See video below on Switch Panel!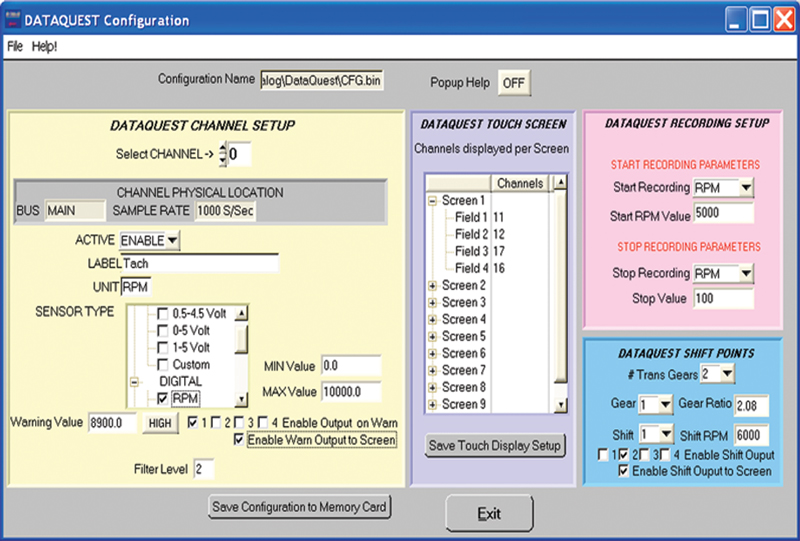 Software:
DATAQUEST's System Configuration and Data Review software is integrated in the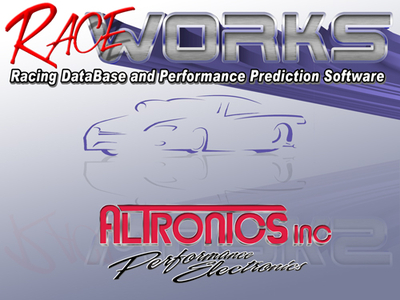 RaceWORKS Racing Data Base Logbook.
The Configuration menu provides a clear and easy interface to setup sensor and touch screen parameters. It also allows for enabling each channels warning and system shift light/outputs. Pop-Up help provides instructions for each parameter.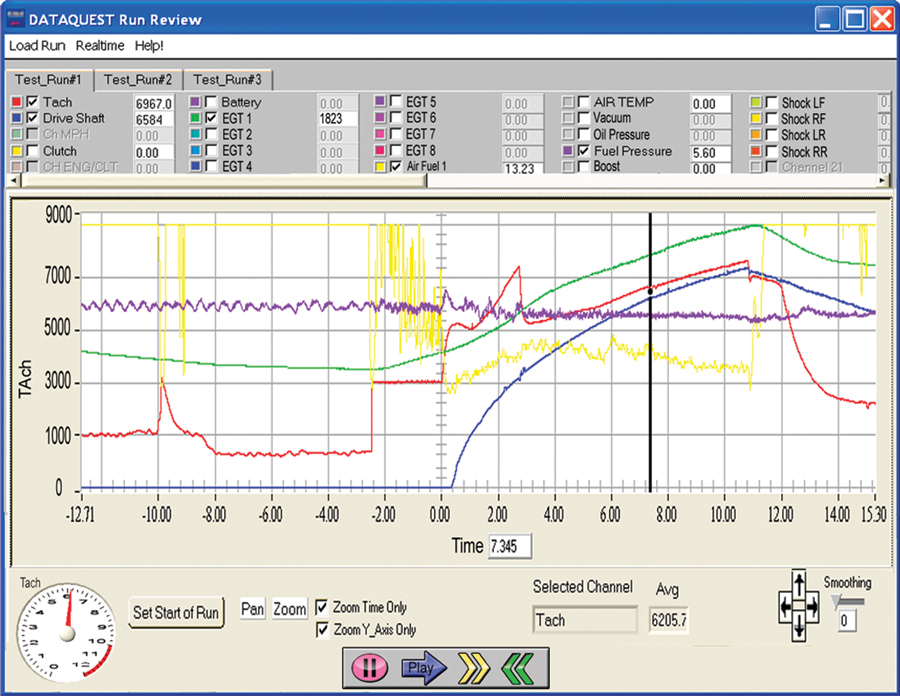 Review software provides an intuitive, full featured interface for reviewing data.
Zoom, Pan, Nudge and Filter channel data as well as setup math functions on data for complex analysis.
DATAQUEST's software can overlay multiple recordings, display track mapping (GPS option required), and allow for Real-Time data collection when connected to the system.

| | | |
| --- | --- | --- |
|   | Media Player |   |
| Click Here for Touch Screen Demo Video | |   |
| Click Here for Configuration Demo Video | |   |
| Click Here for Data Review Demo Video | |   |
| | |   |
Please check back as we will have additional information along with Demonstration and Instructional videos on the DATAQUEST system available soon!
Feel free to call or email if you would like additional information on DATAQUEST.
ALT-DQ-BASE-R1


DataQuest Base System R1 (Click here for Details)


Base System MCU- Engine RPM, Clutch/Converter RPM, Drive Shaft RPM ( 1.875" Ring), 3-Axis Accelerometer, Battery Voltage, 4-high speed Analog Channels(requires additional harness), 4 Warn/Shift Outputs(requires additional harness). 2G SD memory card, Remote Record Button, RaceWorks Logbook/Review Software. **CONTINGENCY ITEM**

ALT-DQ-BASE-R2125


DataQuest Base System R2125(Click here for details)


Base System MCU- Engine RPM, Clutch/Converter RPM, Drive Shaft RPM ( 2.125" Ring), 3-Axis Accelerometer, Battery Voltage, 4-high speed Analog Channels(requires additional harness), 4 Warn/Shift Outputs(requires additional harness). 2G SD memory card, Remote Record Button, RaceWorks Logbook/Review Software. **CONTINGENCY ITEM**

ALT-DQ-BASE-R2178


DataQuest Base System R2187 (Click here for details)


Base System MCU- Engine RPM, Clutch/Converter RPM, Drive Shaft RPM ( 2.187" Ring), 3-Axis Accelerometer, Battery Voltage, 4-high speed Analog Channels(requires additional harness), 4 Warn/Shift Outputs(requires additional harness). 2G SD memory card, Remote Record Button, RaceWorks Logbook/Review Software. **CONTINGENCY ITEM**

ALT-DQ-TSD


DataQuest Touch Screen Dash


Touch Screen Dash Display *Optional*

ALT-DQ-EGT-KIT


DataQuest 8 EGT Probe-kit


8-Exhaust Gas Cylinder Temperature 3/16" Probes (2-Sensor Nodes, weld in bung, compression fitting)

ALT-DQ-SWP


Switch Panel


DataQuest Integrated Switch Panel (requires DataQuest Touch Screen)

ALT-DQ-EGT-A


DataQuest EGT Probe with Signal Conditioner


Exhaust Gas Cylinder Temperature Probe (14' probe, weld-in bung, compression fitting analog converter) plugs directly into MCU (Sensor Node not required)

ALT-DQ-EGT


DataQuest EGT Probe


Exhaust Gas Cylinder Temperature Probe (14' probe, weld-in bung, compression fitting) requies Sensor Node

ALT-EGT-BUNG


EGT Bung


Stainless Female Weld-in EGT bung 1/8" NPT

ALT-EGT-CF


Egt Coupling


EGT Compression coupling.  3/16" probe diameter.  Male 1/8" NPT Thread

ALT-EGT-CLAMP


EGT Clamp


Clamp-on EGT fitting.  For 3/16"  EGT probe diameter. (Clamps fit 1.5"-2.5" tubes) Contact us for other sizes

ALT-DQ-WAF


ALT-DQ-WAF DataQuest Sensor


Wide Band Exhaust Oxygen AIR/FUEL Sensor (connect to MCU or SN)

ALT-8R1.875


8 Magnet Collar 1.875" ID


8 Magnet Collar - 1.875" ID  

ALT-8R2.125


8 Magnet Collar 2.125" ID


8 Magnet Collar - 2.125" ID  

ALT-8R2.187


8 Magnet Collar 2.187" ID


8 Magnet Collar - 2.187" ID  

ALT-Speed


Speed Sensor


Hall Effect 3-wire speed sensor

ALT-Speed-Bracket


Speed-Sensor-Bracket


Speed Sensor Bracket

ALT-DQ-VP


DataQuest Vacuum Sensor


Vacuum Pressure (-15-50PSIA) (crank case, manifold) (connect to MCU or SN)

ALT-DQ-PS30


ALT-DQ-PS15 DataQuest Pressure Sensor


Pressure (0-30psi) Stainless Steel (connect to MCU or SN)

ALT-DQ-PS100


DataQuest Pressure Sensor


Pressure (0-100psi) Stainless Steel (connect to MCU or SN)  **Special Order - Recommend ALT-DQ-PS300**

ALT-DQ-PS300


ALT-DQ-PS300 DataQuest Pressure Sensor


Pressure (0-300psi) Stainless Steel (connect to MCU or SN)

ALT-DQ-PS2500


ALT-DQ-PS2500 DataQuest Pressure Sensor


Pressure (0-2500psi) Stainless Steel (connect to MCU or SN)

ALT-DQ-T300


ALT-DQ-T300 DataQuest Sensor


Water/Oil Temperature (0-300deg F) (connect to MCU or SN)

ALT-DQ-AT300


DataQuest Sensor


Air Intake Temperature (0-300deg F) (connect to MCU or SN)

ALT-DQ-SN-TC


DataQuest Sensor Node - EGT/Thermocouple


4 channel CAN networked (SN) Sensor Node (Thermal Couple EGT)

ALT-DQ-SN-C


DataQuest Sensor Node - TC/Analog


4 channel CAN networked (SN) Sensor Node Combination (TC and Analog specifiy per order)

ALT-DQ-SN-A


DataQuest Sensor Node - Analog


4 channel CAN networked (SN) Sensor Node (Analog voltage)

ALT-DQ-SHOCK


ALT-DQ-SHOCK DataQuest Sensor


Shock Movement Sensor (connect to MCU or SN)

ALT-DQ-TP


ALT-DQ-TP DataQuest Sensor


Throttle Position Sensor -String Pot  (connect to MCU or SN)

ALT-DQ-IT


ALT-DQ-IT DataQuest Sensor


Infrared Temperature sensor 0-392'F (connect to MCU or SN)

ALT-DQ-FTSD


ALT-DQ-FTSD DataQuest Sensor


Full Throttle Switch (dominator type carb) (connect to MCU or SN)

ALT-DQ-FTS


ALT-DQ-FTS DataQuest Sensor


Full Throttle Switch (750 type carb) (connect to MCU or SN)

ALT-DQ-AVS
Image Not Available
ALT-DQ-AVS DataQuest Sensor


Air Velocity Sensor (hood scoop, wing) (connect to MCU or SN)

ALT-DQ-SD


DataQuest SD Card


Dataquest Replacement SD Memory Card